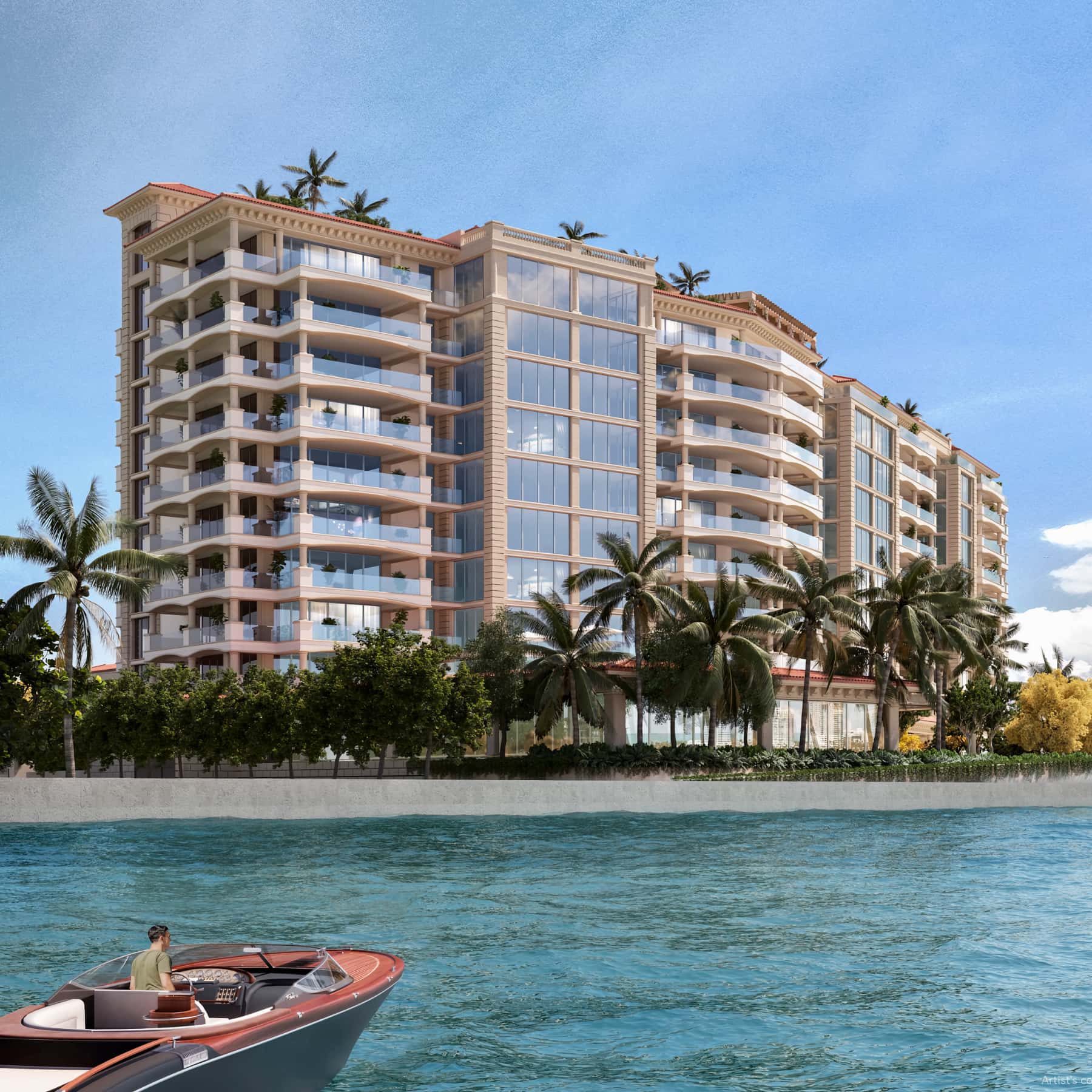 The Residences Six Fisher Island
6 Fisher Island Drive Fisher Island, FL 33109
Nestled in the heart of Fisher Island, Six Fisher offers an exclusive sanctuary of luxurious living. With only 50 residences spanning across 10 floors, each home is a masterpiece of design and comfort, boasting panoramic ocean views and an array of five-star amenities. From private docks to lush landscapes, every detail is meticulously crafted to blend indoor elegance with outdoor serenity. The homes feature airy 10-foot ceilings, floor-to-ceiling windows, and expansive terraces that offer stunning views of the Atlantic Ocean and Biscayne Bay. Designed by Tara Bernerd & Partners, the interiors are adorned with custom kitchens, bathrooms, and walk-in wardrobes. Amenities include access to the exclusive Fisher Island Club, a signature bayfront restaurant, and a state-of-the-art fitness center. The lifestyle at Six Fisher is genuinely unparalleled, offering residents the perfect blend of tranquility, luxury, and comfort.
Request Pricing Details
Download PDF
Download Floor Plans / Images / Complete Brochure
Disclaimer
ORAL REPRESENTATIONS CANNOT BE RELIED UPON AS CORRECTLY STATING REPRESENTATIONS OF THE DEVELOPER. FOR CORRECT REPRESENTATIONS, MAKE REFERENCE TO THIS BROCHURE AND TO THE DOCUMENTS REQUIRED BY SECTION 718.503, FLORIDA STATUTES, TO BE FURNISHED BY A DEVELOPER TO A BUYER OR LESSEE.
Renderings and other materials depict views which are not identical from each unit, and depictions of surrounding areas which are for conceptual purposes only, which are not entirely accurate, which may change from time to time, and which may be may be substantially altered or eliminated by future development, forces of nature, or otherwise. Any adjacent green space areas or other areas depicted or described herein do not reflect currently existing, proposed or potential improvements for such sites or any surrounding areas and developer makes no representations as to the present or future accuracy of, nor shall buyers rely upon, any such renderings or other materials.
Stated dimensions are measured to the exterior boundaries of the exterior walls and the centerline of interior demising walls and in fact vary from the dimensions that would be determined by using the description and definition of the "Unit" set forth in the Declaration (which generally only includes the interior airspace between the perimeter walls and excludes interior structural components). Additionally, measurements of rooms set forth on any floor plan are generally taken at the greatest points of each given room (as if the room were a perfect rectangle), without regard for any cutouts. Accordingly, the area of the actual room will typically be smaller than the product obtained by multiplying the stated length times width. All dimensions are approximate, and all floor plans and development plans are subject to change. This is not intended to be an offer to sell, or solicitation to buy, condominium units in any other jurisdiction where prohibited by law, and your eligibility for purchase will depend upon your state of residency. This offering is made only by the prospectus for the condominium and no statement should be relied upon if not made in the prospectus. The sketches, renderings, graphic materials, plans, specifications, terms, conditions and statements contained in this brochure are proposed only, and the Developer reserves the right to modify, revise or withdraw any or all of same in its sole discretion and without prior notice. These drawings and depictions are conceptual only and are for the convenience of reference. They should not be relied upon as representations, express or implied, of the final detail of the residences. The developer expressly reserves the right to make modifications, revisions, and changes it deems desirable in its sole and absolute discretion. All depictions of furnishings, finishes, appliances, counters, soffits, floor coverings and other matters of detail, including, without limitation, items of finish and decoration, are conceptual only and are not necessarily included in each Unit. Consult your Agreement and the Prospectus for the items included with the Unit. The photographs contained in this brochure may be stock photography or have been taken off-site and are used to depict the spirit of the lifestyles to be achieved rather than any that may exist or that may be proposed, and are merely intended as illustrations of the activities and concepts depicted therein.
FOR NY RESIDENTS: THE COMPLETE OFFERING TERMS ARE IN A CPS-12 APPLICATION AVAILABLE FROM THE OFFEROR. FILE NO. CP16-0131 Any images of a competed building are artists renderings incorporating the proposed building into the existing skyline. As depicted in the developers brochures or on the developers website, sketches, renderings, graphics, plans, specifications, services, amenities, terms, conditions and statements contained in this brochure are proposed only, and the Developer reserves the right to modify, revise or withdraw any or all of same in its sole discretion and without prior notice.